The Finest Cosmetic Brushes in the World
The FM Brush Company produces the finest cosmetic brushes to top make-up artists and cosmetic retailers throughout the world. Our designers continually develop innovative designs and create uniquely tailored brushes that offer precision characteristics not available from any other manufacturer. The performance design incorporated into every one of our custom cosmetic brushes can be felt with every application.
FM Brush's facilities have been streamlined to allow our clients to place individual one of a kind purchase requests without losing time or sacrificing quality. When we collaborate with you on a cosmetic brush design, the resulting creation will be unique to your brand and will exceed your individual specifications and performance requirements. The end result for our customers is a superior product that can be delivered to the marketplace in expedient fashion.
---
"Our cosmetic brushes possess the intangible features and performance characteristics demanded by today's top professional makeup artists and stylists."
---
FM Brush offers a level of professionalism and service that extends beyond ordinary manufacturing and mass production techniques. We hold 19 different brush patents utilizing over 85 years of brush making tradition and experience to create the best brushes in the business. FM Brush also sets itself apart in that we offer patents and patented designs to our clients.
There is no competition when it comes to quality, experience and performance.
FM Brush's custom manufacturing services were established to meet the diverse and unique needs of cosmetic and art supply companies worldwide. We have partnered with many of the top names in beauty and art to produce high quality, custom brush lines with dedication and unparalleled customer service.
With over 17,000 available styles and 19 patented designs, FM Brush also offers its customers an expansive line of fill materials (brush hair), brush sizes, techno-synthetics, seamless ferrules, lacquered dipped handles, colors, logo imprinting and package sourcing.
---
"Our R&D department can develop exclusive creations using traditional handmade and state of the art computer design techniques."
---
FM Brush commits significant resources to develop innovative production techniques to offer customers more versatility and selection when creating a high-end custom brush.
Our experienced representatives and master brush makers will work with you to create an original one of a kind brush line from concept to production to package to meet your personal specifications.
Custom Components, Patents & Proprietary Designs
FM Brush is the only custom component brush manufacturer with designers and production engineers located in the United States and abroad. FM Brush maintains numerous patents and proprietary design features to protect many of our client's intellectual property & licensing concerns.
FM cosmetic brushes possess the intangible features and performance characteristics today's make-up artists have come to expect in their brushes. We also design and produce cosmetic brush collections for some of the leading companies in the beauty industry.
---
"FM Brush maintains numerous patents and proprietary design features to protect many of our clients intellectual property & licensing concerns."
---
Our designers create uniquely tailored brushes that offer unique performance characteristics. We are continually inventing innovative designs and applying them to create new precision cosmetic brushes. FM Brush is unique in that we offer patents and patented designs to our customers.
Whether you are looking for single products, seasonal promotions, or a complete brush line, we know you will discover the convenience, dependability, and quality that have made us successful partners with the world's leading cosmetic, art, craft, hobby and industrial product companies.
With an endless array of brush styles to choose from, FM Brush can offer your company any number of component combinations. From specific fill material and an infinite selection of lacquered dipped handles, shapes and colors, to the imprinting of your individual or corporate name and logo, we can assure you of your ultimate satisfaction.
Our experience in delivering private label brush products to a variety of well-known global companies has placed FM Brush in a unique position to meet a broad range of private label requirements for our clients.
Some of our key capabilities include:
Over 80 Stock and Custom Handle Colors
More than 4,000 Styles and Types of Brushes
2,500 Stock Handle Designs
Seamless colored ferrules
Packaging and Point of Purchase Displays
2-3 Week Delivery on Most Orders
Drop Shipments Available upon request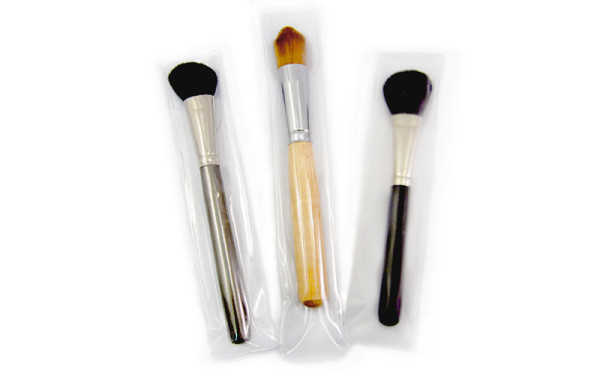 FM Component brushes are designed to your compact's design specifications. We have created unique brush designs, which enhance new product lines and the styles our customers seek to develop.  Our color and 3-dimensional engineering techniques offer our customers scientific accuracy in the creation of seamless beauty brushes by blending a variety of metals, plastics, wood products and brush hairs.
Our consistent quality control standards enable our artisans and craftsmen to create a final product that offers customer superior performance. FM Cosmetic Brushes can also be conceived, created and delivered to market within minimal turnaround times.
FM Brushes are synonymous with quality and exceptional performance. We can help you establish and achieve deep brand equity with our branding and packaging services.
Not only has FM Brush has earned its excellent reputation by consistently manufacturing high quality products and innovative brush styles but is also committed to creating well-designed packaging such as individual protective, peg ready pouches and point of purchase displays that will engage retailers and make your brush line stand out.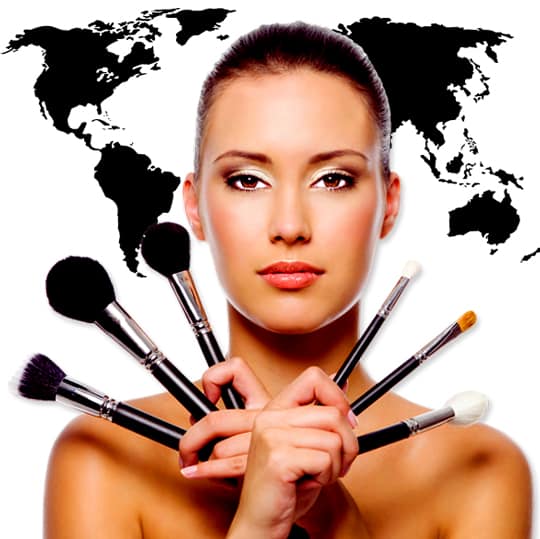 FM cosmetic brushes can be found in virtually every international marketplace. We are uniquely situated in that we are the only cosmetic brush manufacturer who can contact our production facilities on dual continents.
FM Brush designs and manufactures cosmetic brushes on two continents. With manufacturing facilities in both The USA and Thailand. FM Brush is strategically placed to provide our 85 years of traditional brush manufacturing experience to top global brands in today's demanding markets.
Whether it originates domestically or internationally we can address any issue with a precise resolution. No other brush manufacturer offers this kind of service and capability.
FM Cosmetic Brushes are produced to the same quality standards whether a brush originates from our Glendale NY, headquarters or our advanced manufacturing facility in Thailand. FM Brush can incredible styles domestically, while offering all the benefits & flavors that the international marketplace has to offer.
FM Brush is committed to delivering the finest quality cosmetic brushes to our customers and business partners worldwide. We respectfully request the opportunity to show you how the world's premier brushes are designed and developed. Allow us to surpass your standard of service and level of customer satisfaction, by doing what we do best. Creating a line of custom, cosmetic brushes, exclusively designed to suit your requirements and specifications. You will not regret the decision to partner with the FM Brush Company, when creating your next brush line.
FM Brush is proud to be the exclusive brush manufacturer for Beauty Strokes. The Beauty Strokes brand carries a range of superior professional cosmetic brushes that enables you to create make-up artist perfection single-handedly. Twelve of the finest brushes available in two styles of packaging : Retail and Professional. Each brush has tips & techniques enclosed. Beauty Strokes premium brushes are a welcome addition to any vanity case and will provide you affordable luxury.