FM Brush is the premier supplier of brushes to global brands in the cosmetic, artistic, craft and hobby industries worldwide.
With manufacturing facilities located in both New York and Thailand, we are able to meet the quality, quantity, and competitive price points to satisfy the needs of an ever emerging global customer demand.
We offer the efficiency of advanced production techniques while maintaining the precision quality of handmade boutique manufacturing, where our master brush makers create the finest instruments used for all creative and professional brush applications.
FM Brush's custom manufacturing services were established to meet the diverse and unique needs of cosmetic and art supply companies worldwide. We have partnered with many of the top names in beauty and art to produce high quality, custom brush lines with dedication and unparalleled customer service.
FM Brush commits significant resources to develop innovative production techniques to offer customers more versatility and selection when creating a high-end custom brush.
With over 17,000 available styles and 19 patented designs, FM Brush also offers its customers an expansive line of fill materials (brush hair), brush sizes, techno-synthetics, seamless ferrules, lacquered dipped handles, colors, logo imprinting and package sourcing.
---
"Our R&D department can develop exclusive creations using traditional handmade and state of the art computer design techniques."
---
Our experienced representatives and master brush makers will work with you to create an original one of a kind brush line from concept to production to package to meet your personal specifications.
Whether you are looking for single products, seasonal promotions, or a complete brush line, we know you will discover the convenience, dependability, and quality that have made us successful partners with the world's leading cosmetic, art, craft, hobby and industrial product companies.
With an endless array of brush styles to choose from, FM Brush can offer your company any number of component combinations. From specific fill material and an infinite selection of lacquered dipped handles, shapes and colors, to the imprinting of your individual or corporate name and logo, we can assure you of your ultimate satisfaction.
Our experience in delivering private label brush products to a variety of well-known global companies has placed FM Brush in a unique position to meet a broad range of private label requirements for our clients.
Some of our key capabilities include:
Over 80 Stock and Custom Handle Colors
More than 4,000 Styles and Types of Brushes
2,500 Stock Handle Designs
Seamless colored ferrules
Packaging and Point of Purchase Displays
2-3 Week Delivery on Most Orders
Drop Shipments Available
Experience and Dependability
The FM Brush Company is known globally for its unique brush styles and hold 19 patents on brush designs created by our experienced brush makers. Our expertise in component materials, broad selection of stock elements and wide range of specialty options makes FM Brush the ideal choice to partner with when seeking to create your next brush line. From design and production, to custom branding and packaging, FM Brush will surpass all your performance expectations.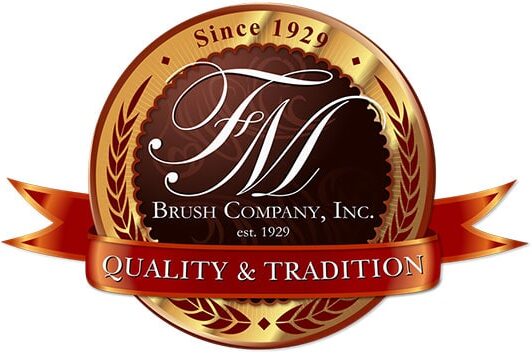 FM Brush's commitment to quality and proven experience in the global marketplace sets us apart from other brush makers. We are the only family run American brush manufacturer in the world. From our original plant in New York, FM Brush maintains the time-honored tradition of making brushes by hand. From start to finish our dedicated brush makers treat this process as an art form in and of itself. This knowledge also has been transferred to our wholly-owned and operated facility in Thailand.
Customers from around the world have come to know and appreciate FM Brush's tradition of excellence. Our continual innovation, ongoing training and dedicated workforce, ensures that all FM Brush products are delivered to you with your exact concept and specifications met. With our strategic manufacturing capabilities, FM Brush will deliver your custom brush order within your needed time frame.
---
"Set a higher standard for quality, use only the finest materials available and let an artist's concept mesh with the hand of an experienced craftsman, the results are magnificent."
---
The key elements that help to ensure that the highest quality standards are maintained throughout the FM Brush manufacturing process include:
All brushes conform to ASTM standards
Seamless ferrules for safety and durability
Only non-toxic paint is used on on our painted handles
All brushes are manufactured under our supervision and to our strict quality standards
Quality control checks are maintained at each step of the manufacturing process
Custom manufacturing and imprinting is available upon request
Quality Components
The FM Brush Company offers over 17,000 available styles, 19 patented designs, an expansive line of fill materials (brush hair), techno-synthetics, lacquered dipped handles, colors, logo imprinting and package sourcing. FM Brush's experience, design and production ability is unmatched.
FM Brush's consistent quality control standards ensure customer satisfaction in both product branding and performance. FM Brush's custom artist brushes are some of the finest constructed in the world. Some of our advanced features include:
Non-toxic lacquered dipped handles

Natural and Synthetic Alternative Materials
Branding
Private Label Production
Individually packaged in protective, peg ready pouches
FM Brush cosmetic and artist brushes are synonymous with quality and exceptional performance, We can help you established and continue a deep brand recognition with our branding and packaging services. FM Brush has earned its excellent reputation in the global marketplace by consistently manufacturing high quality products while creating innovative brush styles and effective packaging, which provides for instant recognition of your product brand.
FM Brush designs and manufactures cosmetic brushes on two continents. With facilities located in both the United States and Thailand, FM Brush is strategically placed to continue providing our 85 years of experience to top global brands in today's demanding markets.
FM cosmetic brushes can be found in virtually every international marketplace. We are uniquely situated in that we are the only cosmetic brush manufacturer who can coordinate our production facilities on multiple continents while maintaining the same level of quality. This allows us to address any issue with precise and efficient resolution unavailable from any other manufacturer.
FM Cosmetic Brushes are produced to the same quality standards whether originating in our New York City headquarters or our advanced facility in Thailand. This allows us to produce incredible styles domestically, while offering all the benefits & flavors that the international marketplace has to offer.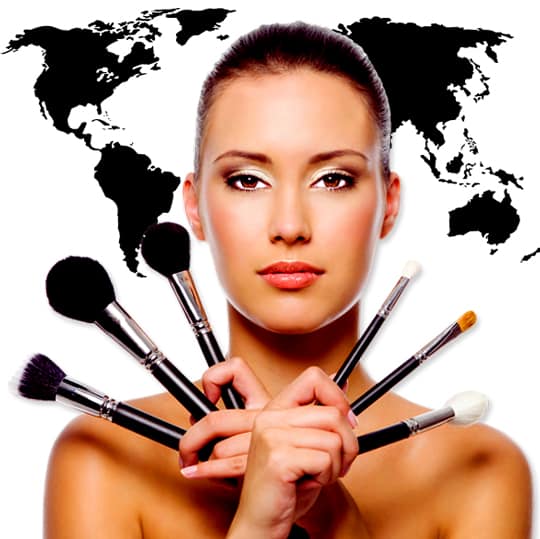 Our World…Our Responsibilities
The FM Brush Company prides itself in being a socially conscience entity by supporting the fight against animal testing, by making sure we use responsible suppliers and vendors. Our brush handles come from managed national wood reforestation programs and we support several conservation and wildlife protection organizations, such as the "Diane Fossey Gorilla fund", "Art in Education", "Free Arts New York City" and "The Kids in Need Foundation", which provides free school supplies nationally to students in need. FM Brush is also proud to support "Friends of Asian Elephants", the world's first elephant hospital, located in Lampang Province, Thailand.
Visit our Social Initiatives Page to learn more about these great organizations.