FM Brush – Thailand 
297 Moo 13, Highway No.11 T.MakhueajaeA.Muang, Lamphun 51000 THAILAND
Monday-Friday 8.30 AM – 5.30 PM
Phone: +66 5358 1044-5
Fax: +66 5358 1046
In 1987 we expanded our manufacturing capabilities by establishing our Thailand facility. This gives us the ability to expand our product lines and compete in the global market place, while maintaining our domestic manufacturing standards. FM Brush Thailand is solely owned and operated by the FM Brush Company.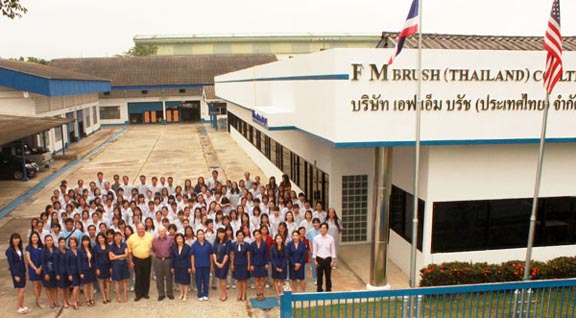 Napat Wongsai – Managing Director of FM Brush Thailand Co. Ltd.
Napat "Ta" is responsible for the coordination of the subsidiary (FMT) company and the parent company (FMG).  She has had 22 years of management experience.
Ratchadakorn Changpradit – Sales
Ratchadakorn Changpradit is a sales representative for FM Brush Thailand.
Sirinat Phongthong – Sales
Sirinat Phongthong is a sales representative for FM Brush Thailand.
  FM Brush – New York 
70-02, 72nd Place, Glendale, NY 11385
Ph:718-821-5939
Fax: 718-366-9502
Monday to Friday   9:00am to 4:30 pm (EST)
FM Brush maintains over 85 years of tradition creating the world's premier artistic and cosmetic handmade brushes. From start to finish our master brush makers consider this process to be an art form. We continue to drive innovation, while maintaing our decades of experience and knowledge in the brush manufacturing industry. FM Brush takes great care in training our dedicated workforce both in the United States and in Thailand to assure you of the highest quality brush products available today.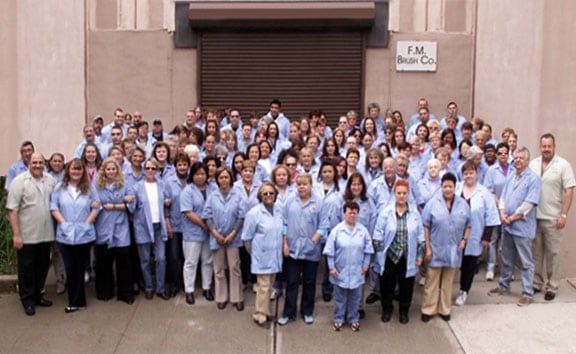 Jeffrey Mink – President & CEO
Jeff Mink is the President & Chief Executive Officer of FM Brush Company, Inc. Jeff has 40 years of manufacturing management expertise. He is also the Chief Innovator for FM Brush Company.
Gregory Mink – Vice President of Sales
Greg is the Vice-President of Sale at FM Brush Company, Inc. Greg has over 20 years managing all aspects of the sales function including inside sales, outside sales, and key trade shows. Greg is responsible for planning and directing all aspects of FM Brush's sales policies, objectives, and initiatives.
Jacqueline Mink – Director of Cosmetic & Retail Sales
Jackie Mink Cooper is the Director of Retail Sales & Advertising at FM Brush Company, Inc. Jackie develops, implements, and manages FM Brush's advertising strategy and content, both from a business, retail sales and technical use perspective.
Michael Mink – Director of Operations
Michael Mink is the Director of Operations at FM Brush Company, Inc.
Veronica Towey – Director of Marketing
Veronica Towey is the Director of Marketing at FM Brush Company, Inc.  Veronica directs and oversees FM Brush's marketing strategy, policies, objectives, and initiatives.
The FM Brush Company is the world's premiere manufacturer of artist, cosmetic, craft, hobby and custom-made brushes. Originally established in 1929 by Frederick Mink, the FM Brush Company has been creating high quality brushes for over 85 years. Since then, four generations of the Mink family have led the FM Brush Company to become a global leader of brush manufacturing to leading names in multiple creative industries.
FM Brush is the only family run American brush manufacturer in existence. Their tradition of service and commitment to high quality production, combines to offer you a personal service experience every step of the way. From concept and design to production and packaging, FM Brush maintains its attention to detail throughout the entire manufacturing process. No matter the application, FM Brush produces the finest quality handmade brushes that will exceed all performance expectations.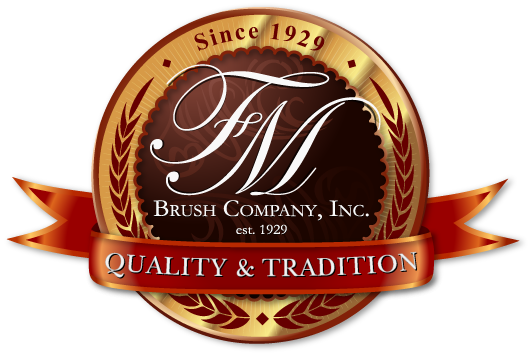 FM Brush is the only brush manufacturer with production capabilities strategically located on two continents. With facilities in both the United States and in Thailand, FM Brush is able to meet the quality, quantity, delivery and price demands of today's competitive art and beauty industries.
FM Brush is the only family run American brush manufacturer in existence today. We proudly create our superior handmade brushes at the main production facility located in our New York City headquarters. FM Brush offers custom design and manufacturing, as well as private label services, where our master brush makers create the finest instruments used for today's demanding creative and professional brush applications.
"No other brush manufacturer can offer the same level of service and quality available from the team at FM Brush."
---
FM Brush is also the premier supplier of brushes to global brands in multiple industries worldwide. By expanding our manufacturing capabilities to Thailand, FM Brush provides an international presence with the same emphasis on handmade quality we provide domestically. This allows FM Brush to meet the demanding expectations of an evolving global market.
Each FM brush is a precision tool that is designed to work again and again under demanding conditions. Our handmade American brushes are constructed using precise quality standards and state of the art production techniques. FM Brush only uses reputable sources for our manufacturing materials, which only come from renewable resources.
---
"FM Brush maintains numerous patents and proprietary design features to protect many of our clients intellectual property & licensing concerns."
---
We invite you to work directly with our leaders, production team and master brush makers, to create a brush experience unique to your product line while maintaining your brand's identity. FM Brush will complete your vision from concept and design to production and packaging.
Our World…Our Responsibilities
The FM Brush Company prides itself in being a socially conscience entity by supporting the fight against animal testing, by making sure we use responsible suppliers and vendors. Our brush handles come from managed national wood reforestation programs and we support several conservation and wildlife protection organizations, such as the "Diane Fossey Gorilla fund", "Art in Education", "Free Arts New York City" and "The Kids in Need Foundation", which provides free school supplies nationally to students in need. FM Brush is also proud to support "Friends of Asian Elephants", the world's first elephant hospital, located in Lampang Province, Thailand.
Visit our Social Initiatives Page to learn more about these great organizations.